Anti Bullying Training 
Bus Drivers – Crossing Guards – Hall/Lunch Monitors
Bullying can happen anywhere at any time to anyone and the some areas that we are hearing more often is on the school bus, in the cafiteria and on their way to and from school.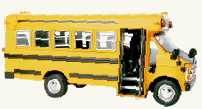 When bullying happens on the school bus not all bus drivers may know what to do therefore making it difficult to stop the bad behavior. Furthermore when students are taught to speak up to someone in authority (ex. bus driver) and if nothing is done about the situation then students may stop speaking up.
We offer a 1 hour keynote presentation to educate Bus Drivers – Crossing Guards – Hall/Lunch Monitors – PTA/PTO on bullying and their responsibility as an adult. When we speak to this diverse group we take the angle of what an adult should do when a student speaks up to them. We also explain how to intervene and document so schools can deal with the bad behavior that is occurring on the bus or off school property.
We never interfere with your schools policies and procedures.
We are here to work together and just as teachers and parents need to know what to do, so do Bus Drivers – Crossing Guards – Hall/Lunch Monitors – PTA/PTO
Please contact us for more information.. 1866 333 4553