Jim Jordan | Motivational Youth Speaker
Jim Jordan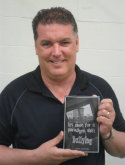 Jim Jordan is a professional speaker who knows how to keep his audiences attention.
He is an author and has been traveling across North America educating students, teachers and parents on how to become proactive in bullying situations.
Voted best entertainer by Readers Choice Awards (Halton area) 12 years in a row.
Dedicated in for making school communities a safe place.
Bystanders
Speak Up!