Feeder School Anti Bullying Assemblies
Bully Proofing Your School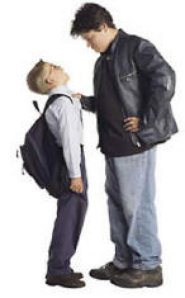 You have no control over which students attend your high school. All you really know is that a significant majority will be arriving from your elementary or middle schools. Here we go again! Here comes another new group of students who may become bullies, victims, or bystanders.
Our Report Bullying presentation is action packed and proactive. I speak a clear message to the 100% of students who witness bullying but fail to speak up.
By using a proactive approach, I don't preach to students, but instead allow students to understand their role as a bystander and the power they have to create a safe school environment. This is done with audience participation, magic and multimedia format.
Bystanders